A web2print platform needs a design editor
All visual expressions you see around you have to be designed first. Nowadays, this can be done conveniently with an online design editor. In this article we talk about the most prominent design tools and why these editors are a must-have for any serious web2print platform.
What is a design editor?
A graphical online design tool: There are several software programs and web applications that offer design editors. Broadly speaking, they come down to the same thing. With a design editor, you can create visual content to convey communication messages. Visual messages through a flyer, social media banner, brochure or T-shirt. Using a computer program, designing these visual messages becomes easier and faster. Such a design can be an authentic design, but it can also be the insertion of new text or images on an original design.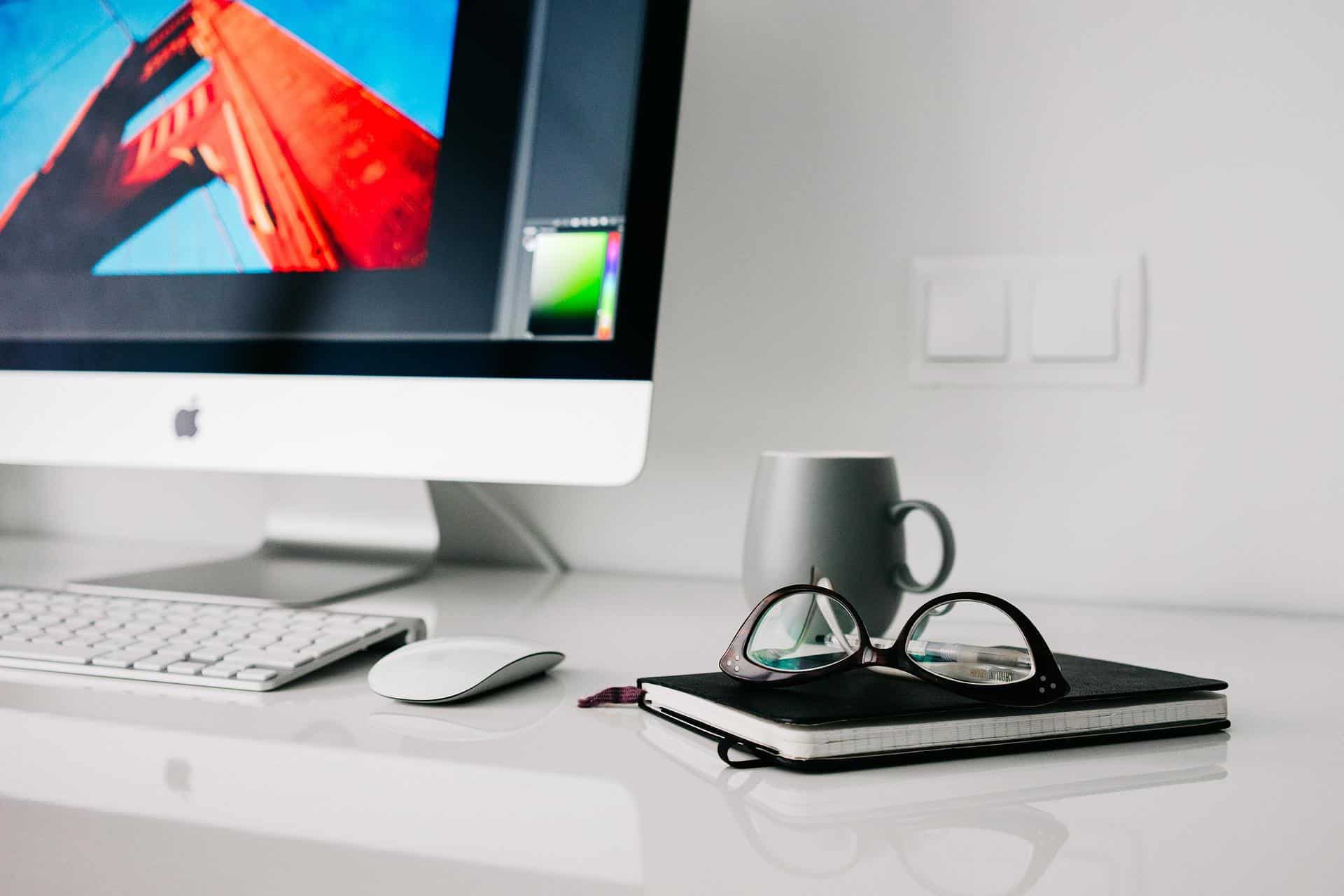 Why does a design editor belong in a web2print platform?
If you are involved in print communication, a design tool is indispensable in the year 2022.
Every serious e-commerce player with a print webshop offers a design editor. The customer can personalize the print product himself. For consumers, for example, a balloon, coffee mug or calendar with their own name or photo on it. For the business customer, for example, business cards or flyers with their own data. The webshop owner can choose to offer a tool with many designs from which the customer can choose one, but often the customer can also upload his own design.
Web2print platforms are also playing a role in the B2B market. More and more brand owners have their own communication platforms for managing, creating and ordering their brand communications. Such a platform has a login and is hidden from the general public. A design editor is also a necessity in such a brand platform. This allows the users of the platform to customize the communication, always within the brand's corporate identity. The design templates often have predefined corporate identity components that are fixed. Within these, users can modify the designs with new texts or images.

Examples of design editors
There are many editors you can connect to an online platform. Each with their own advantages for various target groups. The biggest differences are in the usability of the system (easy to use versus advanced professional program), the degree of design freedom (template-driven tools to complete design flexibility) and the price (free to premium).
In this article, we discuss six editors that cover the entire spectrum of these different applications. From veteran Adobe to the new Canva, VistaCreate, PlaceIt, CHILI and PitchPrint.
Adobe
Adobe is a well-known name in the graphic design world. Adobe offers a variety of professional design programs whereby especially InDesign, Illustrator and PhotoShop are widely used for graphic design, video and photo editing. For the graphic professional need-to-know tools, for the amateur design programs that require some training.
Adobe Express (formerly Adobe Spark) is a more accessible, free editor for the hobbyist. The design program provides thousands of design templates, mostly for social media, with various design sets, Adobe Fonts and Adobe Stock photos. Extremely useful is that you can easily upload photos and create all kinds of photo collages in different formats.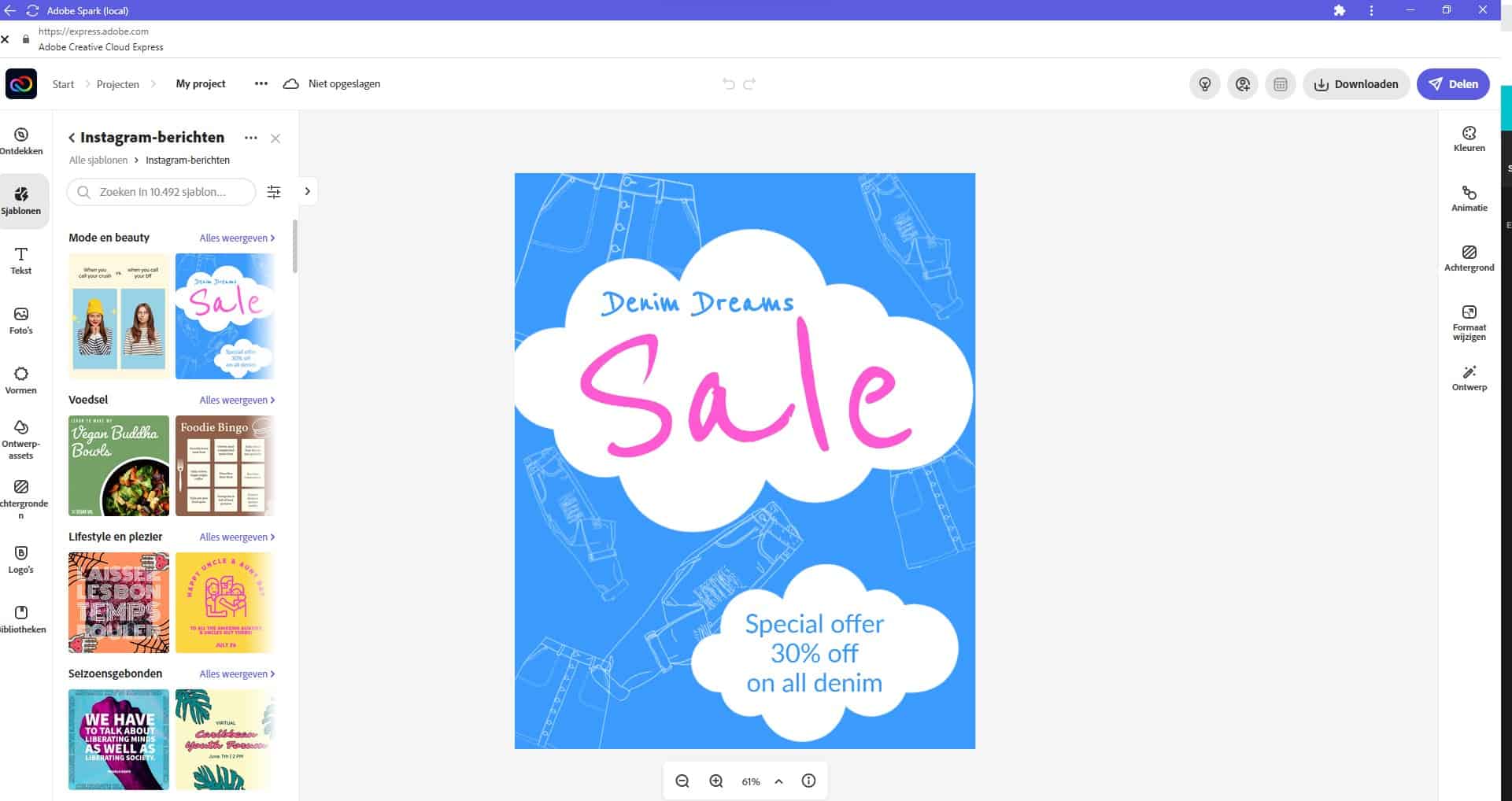 Canva
"Adobe what?" As well-known as Adobe may be in the creative world; not everyone is familiar with it. Not even students of marketing courses. In late 2021, we offered an internship to a marketing student. When we asked her about her knowledge of Adobe packages, she looked at us questioningly. Adobe what? She had never heard of Adobe, InDesign or Illustrator. At school, they teach with Canva. With this, they mainly create design for online publications, but also for print.
The Australian graphic design platform Canva is easy to use and free; part of the reason it is very popular among consumers. You can choose from 250,000 free templates. A pro account is available from 110 euros per year for up to 5 participants, with whom designs can be shared online.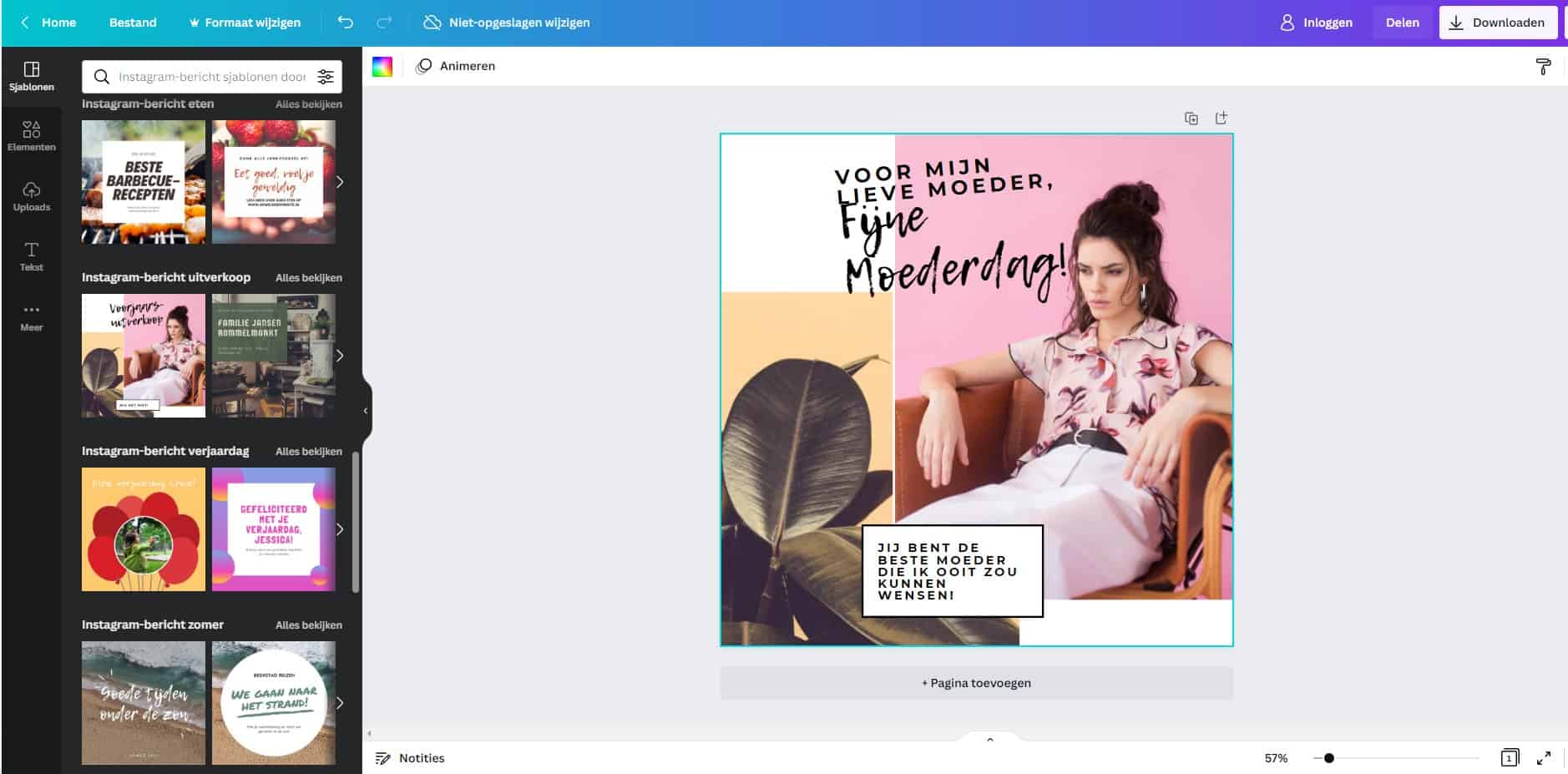 VistaCreate
Internet printer VistaPrint wants to support small business owners worldwide. They do this with a print ordering platform and with countless design options. In 2021 VistaPrint acquired Crello, a fast-growing platform in do-it-yourself design. Crello became VistaCreate and also focuses on the target market of small businesses. It is an online design platform that makes it easy to bring social media and digital design to life, regardless of design experience.
VistaCreate offers an extensive library of free images, fonts, templates and animations – image archive of over 65 million files, 12,000 templates and hundreds of fonts. There is a gallery of design formats and theme collections to encourage creativity and inspiration. Again, you can get more premium options for an additional charge.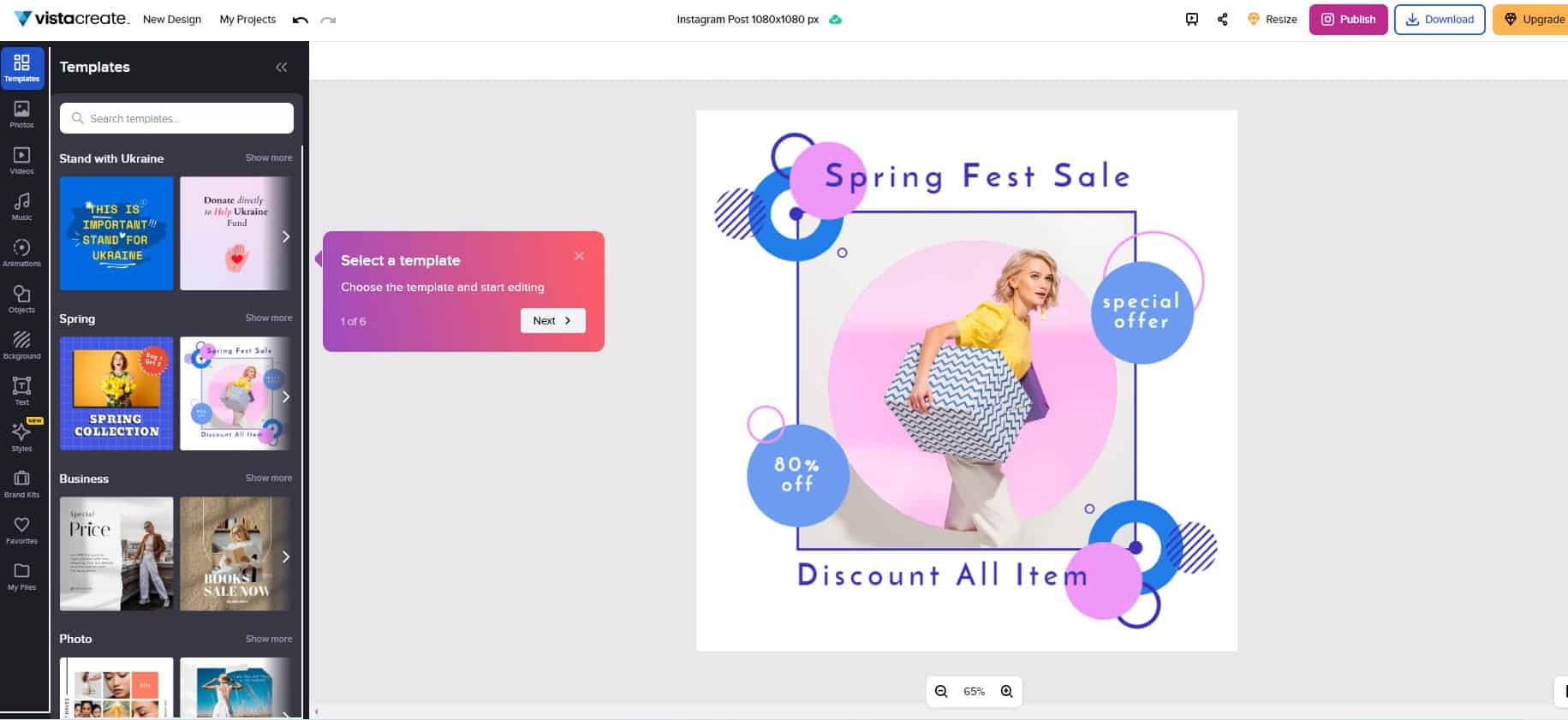 PlaceIt
By chance, we stumbled upon PlaceIt's design program two years ago through the usual Google search paths. We were looking for a tool for mock-ups. For our customer demos, we wanted to customize communication products like a brochure or flag online with the customer's logo and corporate colours. This can be done quite easily with the mock-ups in PlaceIt. This is immediately the most important distinguishing factor of PlaceIt. PlaceIt is a powerful online mock-up and design template generator.
For a small fee (about 100 euros per year), you get the most out of all the features in PlaceIt. You create all digital branding and marketing assets right from the browser. You easily create and download designs for T-shirts, tote bags, social media banners or videos. The design options are simple ones: usually you can only change a text or a photo on one of the many thousands of templates.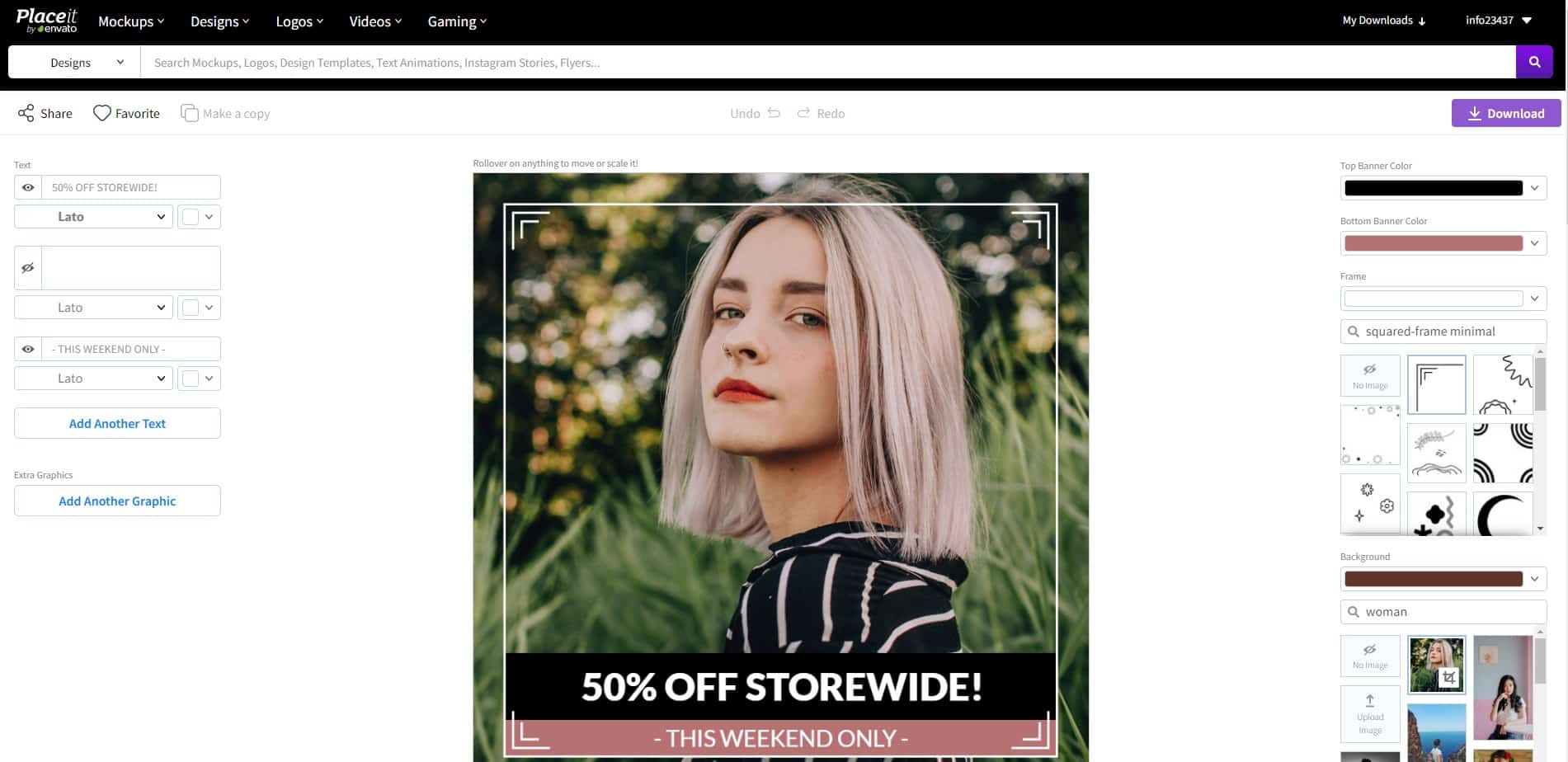 CHILI Publisher
An established name in the graphic arts industry, is the editor of CHILI publisher. It is there specifically for brands and agencies, who want to ensure all designs are in the company's corporate identity. CHILI publisher is a cloud-based creative platform that allows you to create, edit and share visual content through graphic templates.
This is a more professional design tool that fits seamlessly into a brand portal or webshop. The content is always on brand thanks to corporate identity templates. Various formats for online platforms can be generated dynamically. Moreover, the editor can be integrated with Adobe programs. You create ready-to-use illustrations for virtually any digital printing process and for any advertising or e-commerce platform. The software company is making headway with this approach. In March 2022, the software company raised 10 million euros in a new financing round.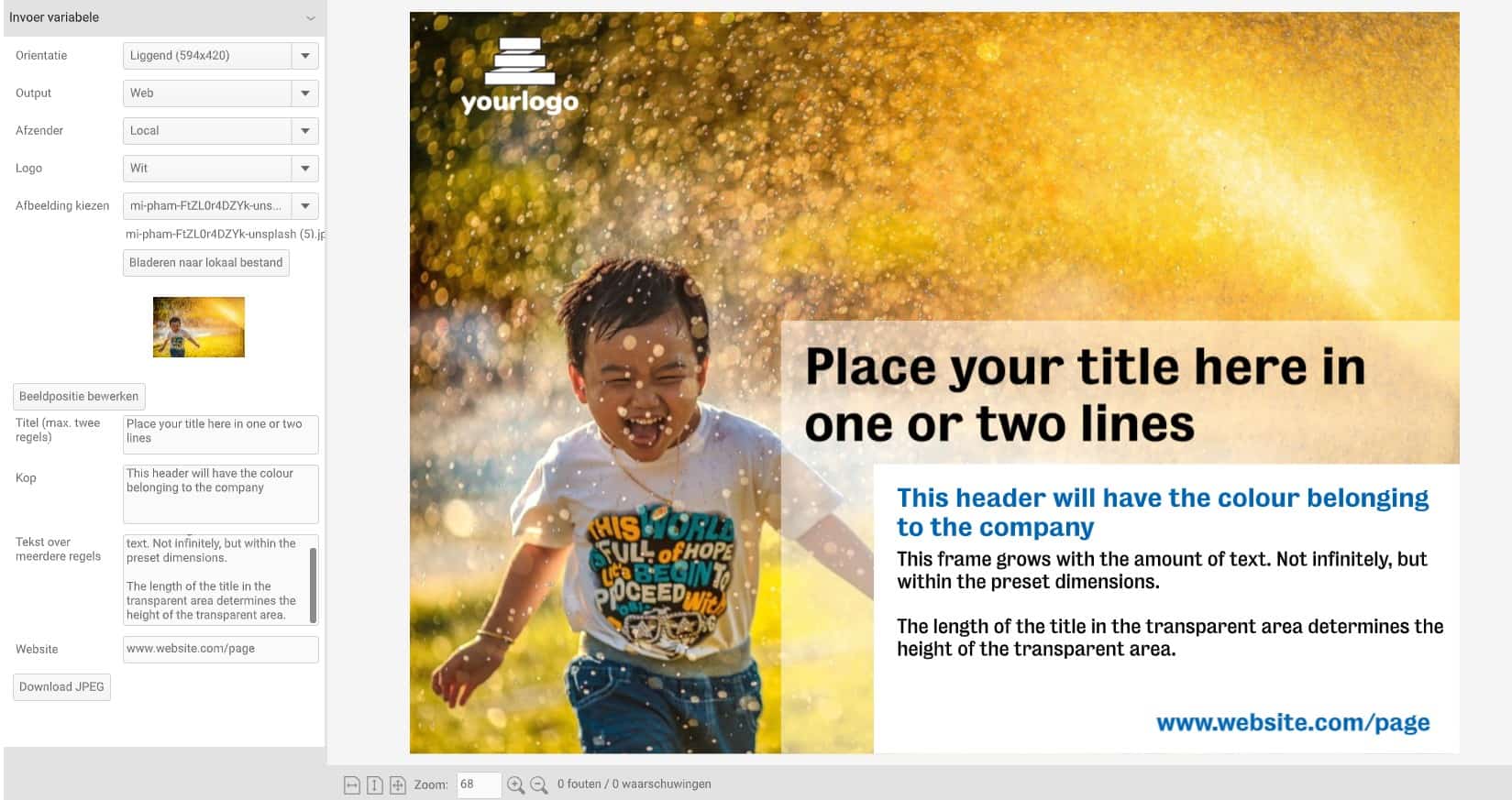 PitchPrint
South Africa's PitchPrint is an editor that is in turn more suitable for consumers without design knowledge. They can easily customize their product on a few simple things; with a name, logo or other image.
If you want the customers in your webshop to be able to easily personalize their products themselves, PitchPrint is a good solution. It is basically a "light-PhotoShop" that you install on your webshop. Customers create personalized designs with their own data, for example for business cards, mugs, T-shirts and phone cases.